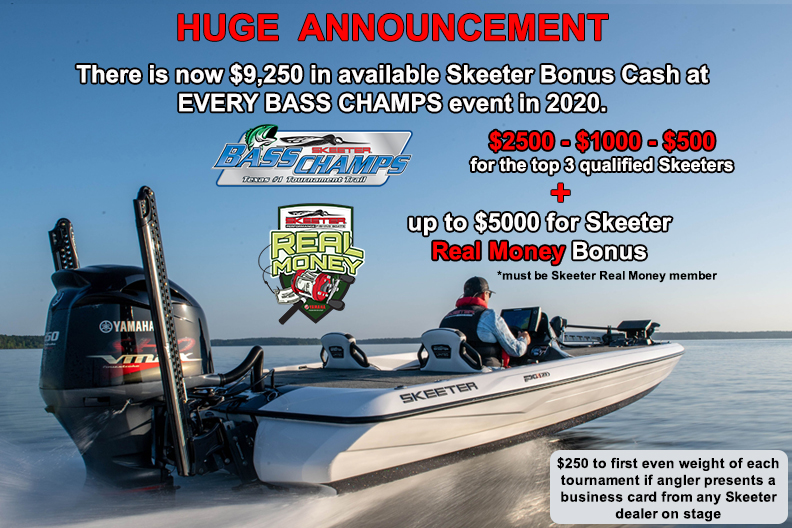 Sponsor Notes and announcements :

HOW YOU WIN EXTRA MONEY AT BASS CHAMPS EVENTS

Click here for full bonus descriptions


Skeeter
&
Yamaha

Continues as Title sponsor for the 19th season with Bass Champs


NEW SKEETER BONUS PROGRAM specifically for Bass Champs


Top 3 Qualified Skeeters receive bonus cash at each team event
1st highest : $2500
2nd highest: $1000
3rd highest: $500


PLUS

NOW YOU CAN WIN up to $5000 in addtional SKEETER REAL MONEY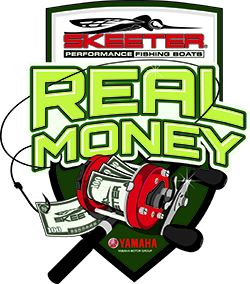 Click here to register for Skeeter Real Money



New exclusive Auto Dealer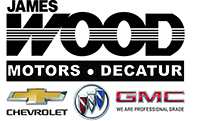 J
ames Wood Motors in Decatur
The only auto dealer that pays you for catching more fish at Bass Champs events!
Over $5000 in potential bonus at each Bass Champs event.




$200 Big Bass Bonus at each team event if Techron is in boat.
Renews as official lubricant & the Techron TX-Shootout on Rayburn
$50,000 Guaranteed for 1st Place

Berkley
renews - Offers new
Cast for Cash
program and 15th Annual Berkley Big Bass on Fork continues.



Abu Garcia
If you catch the big bass of the event with an ABU GARCIA Reel you win two new reels

Power Pole

R
enews as Official Anchor- OVER $11,000 in available
"CAPTAINS CASH"

Sign up for TH-MARINE
ATLAS REWARDS
at WIN more money at Bass Champs events

Amphibia Sunglasses
Renews as official Sunglasses - Big Bass Bonus Cash & New Styles available

PIERCE Coolers & Outdoors
Renews as Official Coolers - Big Bass Bonus program & New products just hitting the market



Sure-Life Catch & Release formula
Renews as official livewell treatment formula - Keep your fish healthy and win more cash!

Sportsman Channel
and
WFN
- 2020 will be our 18th season on TV - Fish Fishburne hosts an all new elimination
challenges starting in April on both networks. 2019 season re-runs begin in January on Sportsman Channel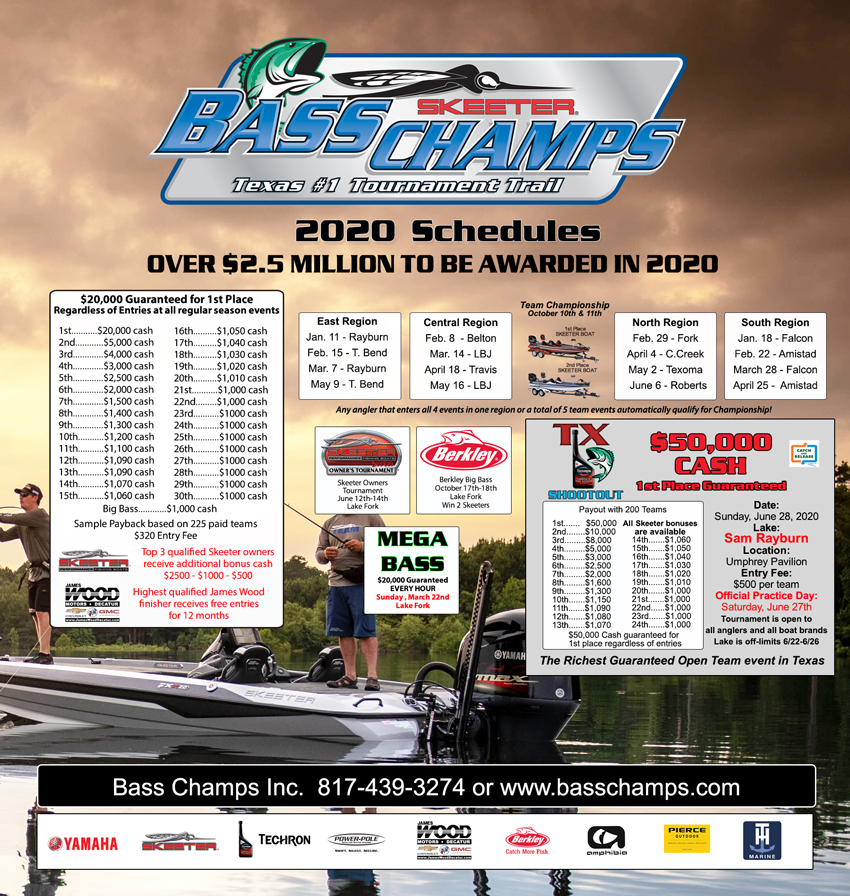 2020 Bass Champs schedule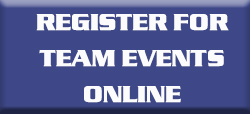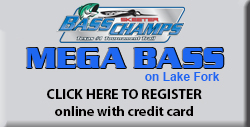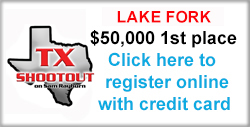 2020 Bass Champs Schedules


All lakes and dates are subject to change due to weather, lake conditions, etc.
Please subscribe to our newsletter or text services to receive the latest updates



$20,000 Guaranteed for 1st Place at all regular season team events



East
South
Central
North
1/11
Rayburn
1/18
Falcon
2/8
Belton
2/29

-

Fork
2/15
Toledo Bend
2/22
Amistad
3/14
LBJ
4/4
Cedar Creek
3/7
Rayburn
3/28
Falcon
4/18
Travis
5/2
Texoma
5/9
Toledo Bend
4/25
Amistad
5/16
LBJ
6/6
Ray Roberts
Special Events
3/22
Sunday - Mega Bass on Lake Fork
6/12-6/14
Skeeter Owners on Lake Fork
6/28
Sunday - TX Shootout on Rayburn
10/10 & 10/11
Team Championship
10/17 & 10/18
Berkley Big Bass on Lake Fork

CLICK HERE FOR SHOW TIMES ON BOTH NETWORKS
Bass Champs Television Show On WFN

Mondays 7:30 PM CST
Tuesdays 1:30 AM CST
Wednesdays at 3:30 PM CST
Fridays at 9:00 PM CST.
Saturdays 5:30 PM CST


Q 1 & Q 2

Multiple airings per week
Check listings
2020 Sponsors and Location Partners

Yamaha Outboards
, Skeeter Boats, Berkley, Abu-Garcia, TH Marine, James Wood Decatur,
Techron, Power Pole, Amphibia Sunglasses, PIERCE Outdoors, Please Release Me Fish Formula, Abu Garcia Reels,
Zapata Chamber, Wood County Industrial, Del Rio Chamber,
Bass Champs | P.O. Box 89 | Haslet | TX | 76052 | 817-439-3274 | http://www.basschamps.com