The Final Bass Champs regular season event is
this Saturday on Toledo Bend

NOTE: This will be a 3 Fish Limit - Trailering event
$20,000 Guaranteed for 1st Place

If your team pre-registers online before Thursday at 10:00 PM
you will be eligible to win two pairs of Amphibia Sunglasses of your choice.
Amphibia certificates will be mailed to the drawing winners





(Remember to use ICE and SURE-LIFE in your livewells)
- You may launch at any ramp on Toledo Bend following the times listed below.
- The host location (weigh-in & on-site registration) is Cypress Bend Park
- You may come to weigh-in via boat or vehicle
- We have made adjustments for social distancing
- There will be no award ceremony after the event. Checks will be mailed to winners.
please wear a mask or buff when around the Bass Champs weigh-in area
- Register Online to avoid crowds - $500 Zero Bonus drawing from those teams that do not weigh in a fish.
(you will be automatically entered in zero bonus if you do not weigh-in)
If you feel sick stay home.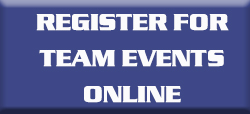 If you regsiter online before 11:59 Thursday (7-30) you will automatically be entered
into a drawing for two pairs of Amphibia Sunglasses.
Over $150,000 in Sponsor Incentive Bonuses available this year


How much do you qualify for?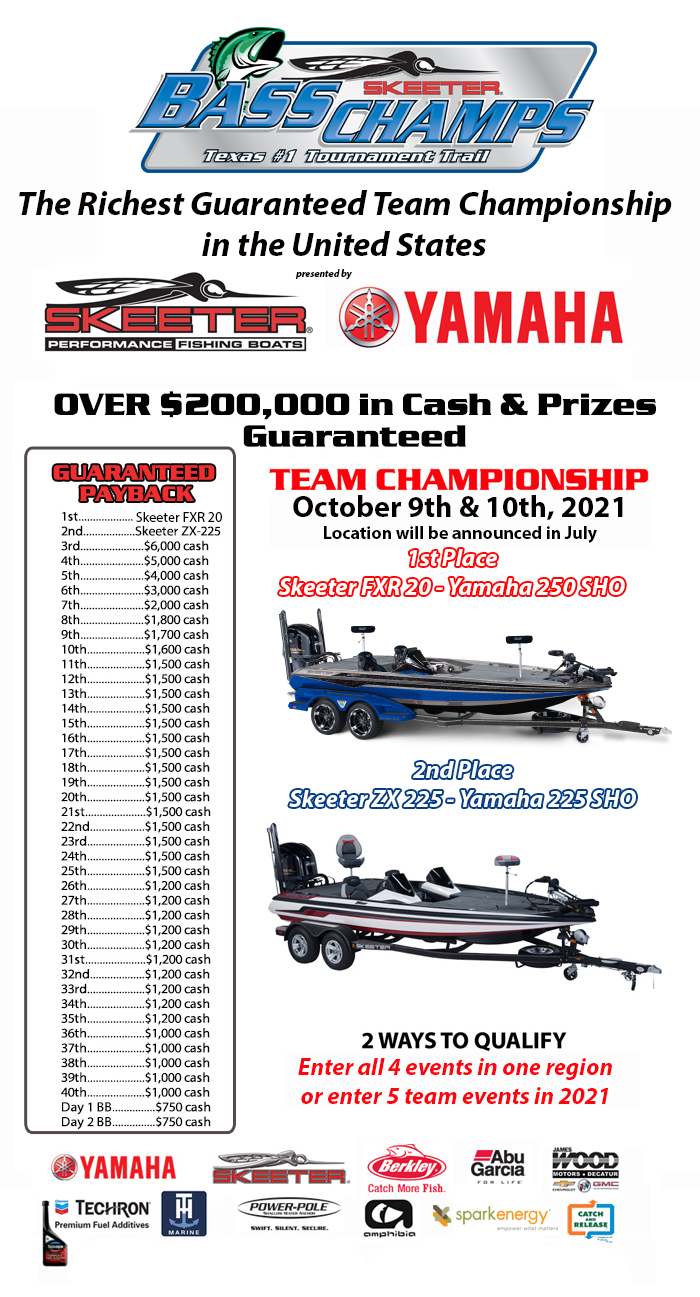 The 15th Annual Berkley Big Bass is this October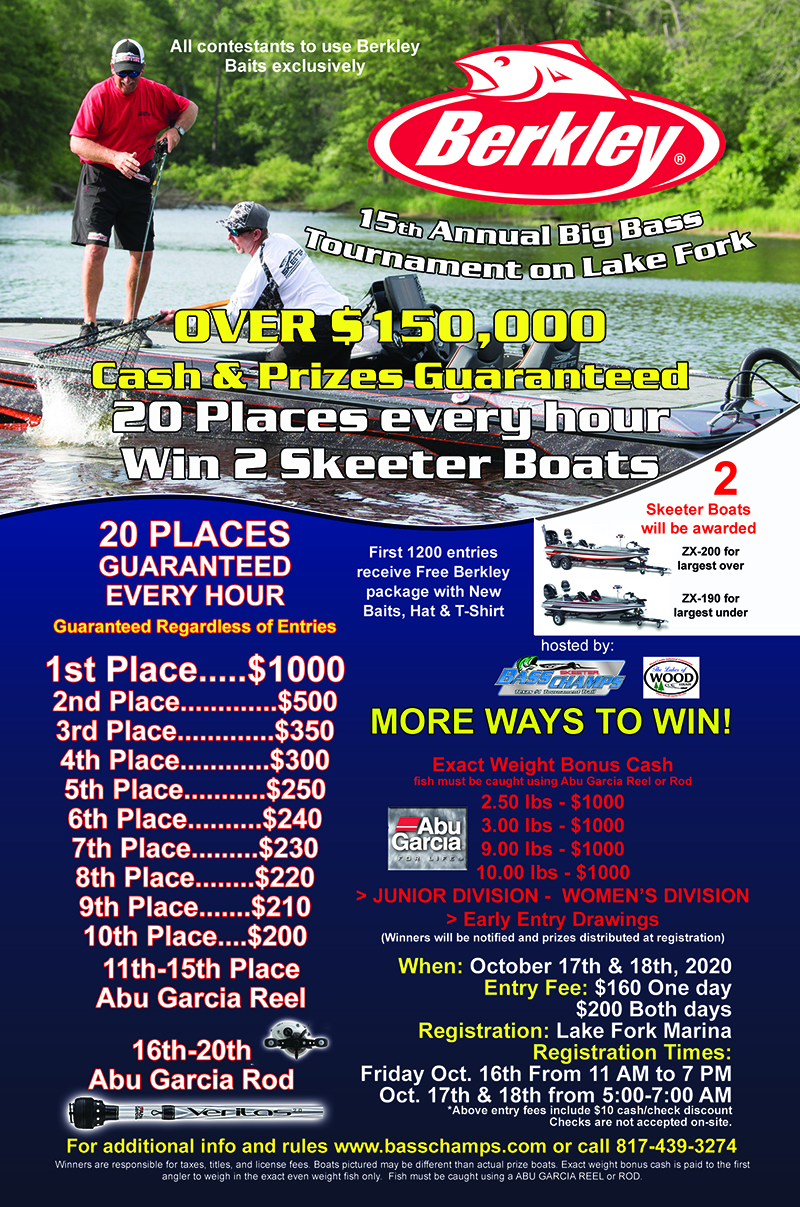 2020 Bass Champs Schedules



All lakes and dates are subject to change due to weather, lake conditions, etc.
Please subscribe to our newsletter or text services to receive the latest updates



$20,000 Guaranteed for 1st Place at all regular season team events



East
South
Central
North
1/11
Rayburn
1/18
Falcon
2/8
Belton
2/29

-

Fork
2/15
Toledo Bend
2/22
Amistad
3/14
LBJ
5/30
Cedar Creek

3/7
Rayburn
6/20
Amistad
5/16
LBJ

6/6
Ray Roberts
8/1
Toledo Bend

6/21

Amistad

(Double-Header - $20K for 1st place both days

6/13
Lake Travis
(Jones Brothers Park)
7/11

Lake Tawakoni
(West Tawakoni
City Park)
Special Events
7/19
Sunday - Mega Bass on Lake Fork
6/28
Sunday - Techron TX Shootout on Rayburn
10/10 & 10/11
Team Championship
Location to Be Announced on or before August 12th
10/17 & 10/18
Berkley Big Bass on Lake Fork
CLICK HERE FOR SHOW TIMES ON BOTH NETWORKS
Bass Champs Television Show
.



Multiple airings per week
Check listings


Tuesdays – 9:30 AM CST

Fridays – 2:00 PM CST

Saturdays – 8:30 PM CST

Sundays – 6:00 AM CST
2020 Sponsors and Location Partners


Yamaha Outboards
, Skeeter Boats, Berkley, Abu-Garcia, TH Marine, James Wood Decatur,
Techron, Power Pole, Amphibia Sunglasses, PIERCE Outdoors, Please Release Me Fish Formula, Abu Garcia Reels,
Zapata Chamber, Wood County Industrial, Del Rio Chamber,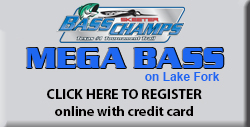 Bass Champs | P.O. Box 89 | Haslet | TX | 76052 | 817-439-3274 | http://www.basschamps.com