SKEETER AND YAMAHA EXTEND PARTNERSHIP WITH BASS CHAMPS FOR THREE MORE YEARS!
Fort Worth, Texas- Bass Champs announced that Skeeter/Yamaha will return as the title sponsor of Texas' leading team tournament trail through 2016.
Skeeter and Yamaha are the most sought after boats and motors for the leading tournament anglers across the United States and especially in Texas. As part of the sponsorship agreement, Skeeter and Yamaha will receive exposure through all of Bass Champs outlets including, but not limited to, tournaments, website, television, advertising and promotional items.
"2014 will be our 11th season with Skeeter boats as our Title sponsor. We are excited and proud to be able to represent Skeeter and Yamaha. They not only build the best boats and motors on the market, they are simply great people. As always there is significant cash (up to $5000) available for qualified Skeeter owners at every Bass Champs event in 2014. If an angler is going to purchase a new bass boat, Skeeter is faster, dryer, and simply better than any other boat out there." –Bass Champs President, Chad Potts.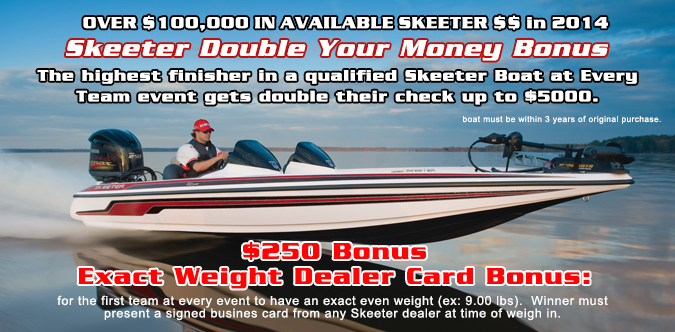 Teams drastically increased their winnings through the Skeeter/Yamaha bonuses at every event in 2013. In 2014, tournament anglers will again have the opportunity to double their payday at each event up to $5,000. The highest finishing team in a qualified Skeeter/Yamaha at every team event will be eligible to win the incentive.
"At Skeeter, we strive to make the best boat on the market for our anglers and dealing with Bass Champs to help promote our products is an easy choice. We are proud to pay out contingency money for those who fish from our boats." – Ben Jarrett, Director of Sales and Marketing, Skeeter Boats
Since they built the first bass boat over 65 years ago, Skeeter has raised the bar in innovation and design. Naturally, the Yamaha SHO was introduced to the bass fishing world as the most fuel efficient, quiet and fastest motor on the market. Together, Skeeter and Yamaha lead the bass fishing market in innovation, design and dependability.
About Bass Champs
Bass Champs is the premier team tournament trail in Texas, offering weekend anglers the opportunity to fish for some of the largest winnings in the state, including a Ford F-150 guaranteed for 1st place at every event in 2014. There are 20 chances for anglers to win big in four regions across the state. Bass Champs also offers a team championship in which anglers from each division fish for huge prizes including two fully-rigged Skeeter/Yamaha boats, an FX 20 and ZX 20, both rigged with a Yamaha 250 SHO, Minn-Kota Trolling motor, and Humminbird electronics. Bass Champs is also responsible for some of the largest Big Bass events where anglers have the opportunity for massive paydays including a new Ford Truck every hour at the Ford Mega Bass event on Lake Fork, April 6th, 2014. Also, the Berkley Big Bass event that features two Skeeter Boats for overall big fish and 10 places every hour October 18th-19th, 2014. For more information about Bass Champs, times of the television show, dates of the events, incentives or to register check out the website at BassChamps.com, or on facebook.com/basschamps.tournaments.
About Skeeter/Yamaha
Skeeter Products, Inc., a Yamaha Boat Company, has been a proud supporter of America's fishing community for over 65 years. Skeeter is the recipient of twelve consecutive NMMA® C.S.I. Customer Satisfaction Index awards. For more information, visit www.skeeterboats.com. EAT. SLEEP. FISH.
Chad Potts, President Bass Champs, Inc. (817) 247-2974